The Linear Conveyor Module LCM is a transport system that features the module structure and high speed direct drive by a linear motor. It helps you build up highly value-added, general-purpose transport systems between processes. Featuring high speed, high accuracy, high speed motion from one point to another, assembly work on sliders, and motion of sliders in the reversed direction, the Linear Conveyor Module LCM achieves high throughput.
Basic Info
Improve takt time

Lower running cost

Long Service life

Shorter start-up time

Reduced transport line space

Increased throughput

Flexible line configurations

Excellent maintainability
Feature
1.  Two-second reduction in takt time
Reduced transfer time

High-speed and high-accuracy transfer

Max. speed: 3000 mm/sec.

Max. acceleration: 2G

Max. load mass: 15 kg

Repeated positioning accuracy: +/−0.015 mm (standalone slider) Note
Note. This is the repeated positioning accuracy for a standalone slider when positioning from one direction (single-side approach).
Note. The positioning accuracy for the single-side approach after correction by RFID is 0.1 mm including the mutual difference between sliders.
2. Modular production allows highly flexible line structure
Save equipment space

Can be moved efficiently between processes with different takts

Workpieces do not need to be retracted

Significant reduction of start-up time

Construct branching lines, joint lines, and other lines in flexible configuration
3. Additional modules provide expandability.
Flexible set-up of the slider's acceleration/deceleration, forward/backward movement, positioning, and other actions. The variety of possible line structures has been greatly expanded to supersede conventional models.
Belt modules can be selected

Easier to design and implement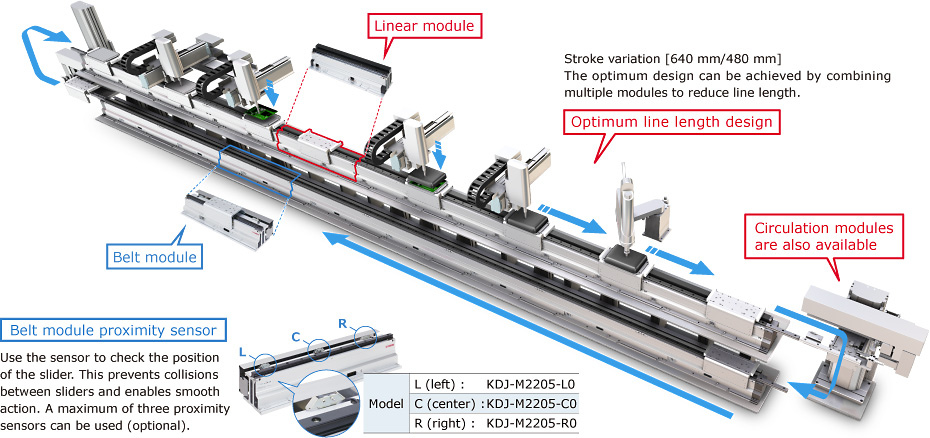 4. Excellent maintainability 
Optimal for small batch production of various product types

Quick recovery by replacing the slider when machine trouble occurs

Easy maintenance
Specification
1. Linear Conveyor Module
Drive method
Moving magnet type, Linear motor with flat core
Repeat positioning accuracy
+/−0.015 mm (single slider) Note1/
width 0.1 mm (mutual difference among all sliders) Note2
Scale
Electromagnetic type / resolution 5 μm
Max. speed
3000 mm/sec
Max. acceleration
2 G
Max. payload
15 kg Note3 Note4
Rated thrust
48 N
Total module length
640 mm (4M) / 480 mm (3M) / 400 mm (for 2MT circulation)
Max. number of combined modules
16 (total length: 10240 mm)
Max. number of sliders
16 (when 16 modules are combined)
Min. pitch between sliders
420 mm
Mutual height difference between sliders
0.08 mm
Max. external size of body cross-section
W 136.5 mm × H 155 mm (including slider)
Bearing method
1 guide rail / 2 blocks (with retainer)
Module weight
12.5 kg (4M) / 9.4 kg (3M) / 7.6 kg (2MT)
Slider weight
2.4 kg / 3.4 kg (when the belt module is used.)
Cable length
3 m / 5 m
Controller
LCC140
Note1. Repeated positioning accuracy when positioning in the same direction (pulsating)
Note2. Positioning accuracy in the pulsating when using the position correction function with the RFID.
Note3. Weight per single slider.
Note4. When used together with the belt module, the max. payload becomes 14 kg since the parts dedicated to the belt are attached to the slider.
2. Belt Module
| | |
| --- | --- |
| Drive method | Belt back surface pressing force drive |
| Bearing method | 1 guide rail / 2 blocks (with retainer) |
| Max. speed | 560 mm/sec |
| Max. payload | 14 kg |
| Module length | 640 mm (4B) / 480 mm (3B) |
| Max. number of sliders | 1 slider / 1 module |
| Main unit maximum cross-section outside dimensions | W 173.8 mm × H 155 mm (including slider) |
| Cable length | None |
| Controller | Dedicated driver (Included) |
| Power supply | DC 24 V 5A |
| Communication I/F | Dedicated input/output 16 points |
| Module weight | 11.2 kg (4B) / 8.8 kg (3B) |
3. LCC140 (controller for LCM100)
Controllable robot
Linear conveyor module LCM series
Outside dimensions
W402.5×H229×D106.5mm
Main body weight
4.8 kg
Input power voltage
Single-phase AC200 to 230V +/−10% or less (50/60Hz)
Maximum power consumption
350VA (LCM100-4M 1 slider is driven.)
External input/output
SAFETY
RS-232C (dedicated to RFID)
RS-232C (for HPB / doubles as POPCOM+)
Network option
CC-Link Ver. 1.10 compatible, Remote device station (2 stations)
DeviceNet™ Slave 1 node
EtherNet/IP™ adapter 2 ports
Programming box
HPB, HPB-D (Software version 24.01 or later)